Derry GAA star Eoin Bradley admits assaulting referee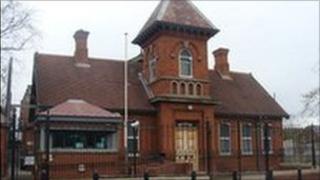 A GAA star from Kilrea in County Londonderry has been ordered to pay compensation after he admitted assaulting a referee.
Eoin Bradley, who is 27 and plays for Glenullin, appeared at Limavady Magistrates Court on Wednesday.
Bradley shouldered and punched the referee in the face after a quarter-final championship game on 8 August 2010.
A defence solicitor said Bradley had apologised for his actions.
He said that during the match personal remarks had been made and Bradley also felt that some unfair decisions had been taken.
The solicitor said that Bradley was still "pumped up" when he approached the referee, but the attack did not happen in front of spectators.
He said he accepted that he shouldered him and words were exchanged but he said his client never meant to punch him, but instead to push him in the face.
The injured party attended hospital where redness and slight swelling were detected on his face.
The solicitor said that Bradley had already been punished by the GAA by being banned for six months.
This had cost him the opportunity to play for Ireland under the International Rules series.
The District Judge, Paul Copeland, said when incidents like this came as far as the criminal system it showed how seriously the authorities and the sport were taking them.
"Bradley's actions have brought himself and his sport into disrepute," he said.
Judge Copeland bound Bradley over to be of good behaviour for a period of two years on a surety of £500 and ordered him to pay the referee £500 in compensation.