Dublin publican ordered to remove anti-Queen banner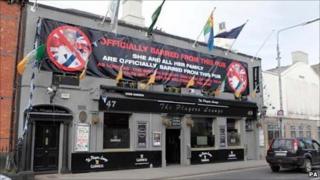 A Dublin publican who caused controversy when he erected a huge banner barring the Queen from entering his premises during her proposed state visit in May has been ordered by a court to remove it.
Judge Paul Kelly ordered John Stokes to promise to remove the sign from outside the Players Lounge in Fairview, and not to erect another one.
The 60ft by 20ft banner featured two pictures of the Queen and read: "She and her family are all officially barred from this pub.
"As long as the British occupy one inch of this island they will never be welcome in Ireland."
The Queen is to pay a state visit to the Irish Republic in May, the first by a British monarch since independence.
Judge Kelly told Mr Stokes at Dublin District Court that he had the right to protest as long as he did so within the law.
The judge said he had "no doubt" there would be a planning issue with such a large sign.
Mr Stokes, the father of Celtic footballer Anthony Stokes, said he reluctantly agreed to take down the controversial sign after a senior garda threatened to object to his application for six late licences.
'Democratic right'
Inspector Liam Dillon told the court that his objection, based on public safety concerns, would be withdrawn if the banner was removed by 1700 GMT.
The publican agreed, stating that the livelihoods of his 12 staff members would be at risk if he did not get the late licences at the pub.
Outside the court, Mr Stokes, vowed to continue his protest against the queen's visit.
"I'll just have to find another way that's acceptable to An Garda Siochana," he said.
Mr Stokes said his objection was not against the Queen as a person, but as the head of state and commander of the British Forces.
"This is nothing against English people. We've a lot of English people in the pub, we show English football, and we're quite happy to do that," he said.
"I do feel it's not the right time for the Queen to visit this country and I feel I have a democratic right to express that view. She still occupies part of our country and as long as she does I will always object to her presence in this country."