Girl finds screw in McDonald's Happy Meal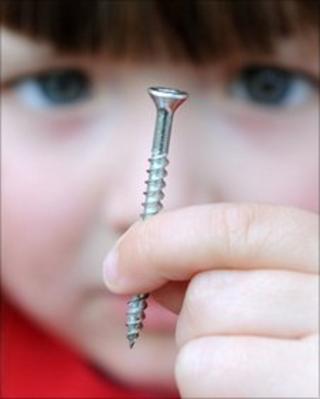 The mother of a four-year-old girl has said she is appalled after her daughter found a two-inch screw inside a McDonald's meal.
The screw was among chicken nuggets Brenda McQuay bought for daughter Rebecca at the McDonald's restaurant in Carrickfergus, County Antrim.
"Rebecca was in the back of the car and said 'Mummy, look what I found' and held up the screw," Brenda said.
McDonald's said it would launch an investigation.
Brenda, who was travelling back to her home in Jordanstown on Tuesday afternoon, stopped off on the way back from a vaccination clinic to buy Rebecca a treat.
Much of the restaurant was closed with workers inside employed on a re-fit but the drive-through area was still open.
When they were making the short journey to their home, Rebecca, sitting with the meal on her lap, alerted her mother to the foreign object.
"When I briefly glanced round to see what it was, I was shocked to say the least," Brenda said.
"I was just as worried about the dirt and the grime that could have been on it and then would have been on the food that she had eaten.
"But when you think about what could have happened if this had been a younger child, it really does not bear thinking about.
"I just got all the food and threw it all straight in to the bin."
Brenda emailed McDonald's on Tuesday evening and the company replied on Wednesday morning.
She said the response, in which the company promised to send the screw to a "food technology laboratory" for investigation, was unsatisfactory.
On Friday, the BBC contacted McDonald's and the company issued a statement.
"We are very sorry to hear of this incident and understand how upsetting it must have been to the family affected," a spokesperson said
"We have launched an immediate investigation to find out why our strict safety standards haven't been met in this one-off case, and we are in touch with the family."