Titanic chaplain's plan for a church boat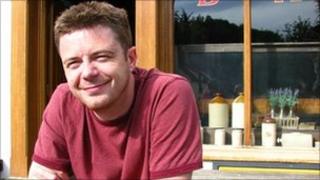 He is the new chaplain of the Titanic Quarter. His parish is forever linked with a name that is an international by-word for catastrophe.
But Church of Ireland minister Chris Bennett's enthusiasm is unsinkable.
"Yes, the Titanic sank but she was all right when she left us," he tells those who jibe at the idea of a Titanic Quarter chaplain.
His parish is a building site on the edges of east Belfast - one of Europe's biggest water regenerations projects.
It is the place where the great ship was built and launched, only to hit an iceberg and sink on her maiden voyage on 15 April 1912 with the loss of 1,517 lives.
Now, looming over the old Harland & Wolff shipyard, there is a new £5m White Star House - named after the shipping line that launched Titanic.
There are £1bn plans for a visitors' centre, hotel, business space, a film studio and thousands of homes.
And the new Church of Ireland chaplain Chris Bennett, 34, also has plans for his Titanic parish.
No fancy church and no regular worshippers - it is just perfect.
"It is the best blank page that the church has had in Ireland since St Patrick stepped off the boat," he said.
"There are no churches down here - in a city and a province that is full of churches that gives us an amazing new opportunity."
He has big plans. He wants a church without walls to close people in. His new church will be on a boat - what else would you do in the birthplace of the famous liner?
It will be a church where everyone will be welcome. He has floated his idea with ministers from other denominations in Northern Ireland and the response has been positive.
"it is a unique change for us to have a new kind of church. Instead of a different building on every street corner, all the Christians down here in the Titanic Quarter are working together and we hope that they will work together off a boat moored here in the Abercorn Basin," he said.
He imagines "a community hub" - a place where people can connect, make friends and even talk about the big spiritual questions of life.
"The reception has been really good, I've already made some amazing new friendships," he said.
"It is a new day in Northern Ireland. The perception that this is a place where Christians are always fighting with one another is a thing of the past."
At the moment, Chris Bennett operates with a laptop, a wi-fi and a coffee. He has no church building, no services list, no band of parishioners - but therein lies the joy.
"It is the best job in the world," he said.
"I have no building to worry about, no organist, no cleaner, no caretaker. All I have is this fantastic building site for this amazing new part of Belfast - and I am ready for the challenge."
Each Sunday, he and his parishioners form their own "walking church". They stroll from the city's Odyssey area to the Titanic Quarter and everyone is welcome to join them.
Slowly they are building a sense of community and, as people move into the area, they are introducing neighbours to each other, sowing the seeds of friendship.
They are hoping to raise £250,000 for their church boat by the end of the year and, if all goes well, the boat will be in place in the dock very soon.