Dunmurry building firm Bow Homes in administration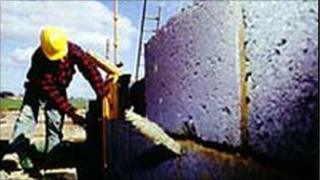 Another Northern Ireland house-building firm has been placed into administration.
Bow Homes, based at Colinglen Road in Dunmurry, owes its bank more than £6m.
The firm, which has been trading since 1992, was both a contractor and developer working mainly in Belfast and south Antrim.
Its last set of accounts for 2010 showed a pre-tax loss of £1.4m compared to a £121,000 profit the year before.
Meanwhile, an insolvent east Belfast property partnership is to be wound up.
Signal Properties LLP, whose registered office is on the Belmont Road, had been failing to pay interest on its Bank of Scotland Ireland (BoSI) loans.
The partnership's last set of accounts notes that BoSI has ceased to operate and that another company is now managing the bank's loan book.
The partners concluded that meant further bank support for the venture was unlikely so it should be wound-up.
The partnership owes its creditors almost £4m, but estimates that its assets are worth just £1.2m
A related company, Kane Developments NI, has had two properties in the Ravenhill area of east Belfast placed into receivership by Anglo Irish Bank.
The Northern Ireland construction and development sector continues to be badly affected by the bursting of house price bubble.
Prices are still falling, sales volumes are far below their peak and bank lending policies are much stricter than they once were.