Daughter of C. difficile victim speaks out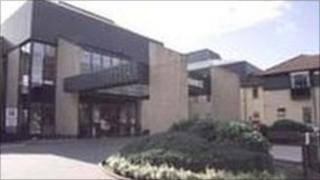 For Giulia Clarke, the public inquiry into a C. difficile outbreak was important in learning the truth about the cause of her father's death.
The findings of Northern Ireland's biggest ever hospital superbug outbreak concluded C. difficile was linked to 31 deaths on Monday.
Ralph Rossi, from Newtownabbey, was married to Sylvia for 46 years and had seven grandchildren.
He had been admitted to hospital in December 2007 with treatable but incurable myeloma, a cancer that affects cells in the bone marrow.
His treatment often meant he required hospital stays to receive medication or sometimes a blood transfusion.
After spending a few days in Antrim Area Hospital for routine treatment, Mr Rossi was moved to a different ward and became seriously ill after contracting Clostridium difficile.
His daughter Giulia said: "This ward was really dirty, it smelt of faeces and diarrhoea and after this my dad went down really quickly."
Both Giulia and her mother Sylvia gave recorded statements and attended the inquiry.
Her mother also took part as a witness.
Despite the findings of the £2m public inquiry, Ms Clarke believes "the money could have been spent somewhere else".
"All it found out was that people should be told more things and they need to be cleaner. To me that is something they should have been doing all along anyway.
"The standard of care that my dad had was absolutely horrendous. He didn't deserve to have the death he had."
The inquiry was headed by Dame Deirdre Hine, who said she hoped the inquiry had removed some uncertainties about the part played by C. difficile infection in the deaths of those who died.
She said the inquiry would "ensure that, as far as is humanly possible, others do not suffer the same distressing experiences as they or their loved ones have done".