LGB inequality persists in Northern Ireland workplaces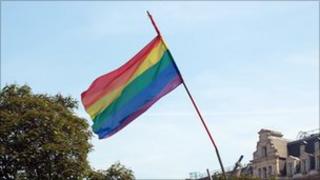 Two-fifths of lesbian, gay and bisexual (LGB) people working in the public sector in NI have heard derogatory comments by colleagues, a report says.
The report is based on research carried out on LGB peoples' experiences of equality in the workplace.
It also suggested 30% of LGB people in the community and voluntary sector have experienced derogatory remarks.
Social Development Minister Alex Attwood will launch the report at Parliament Buildings on Wednesday.
He said: "My Department is committed to the progression of a shared future for all in Northern Ireland.
"I commissioned the Rainbow Project to carry out this research as part of this process."
Matthew McDermott, the equality officer at the Rainbow Project and the report's author said: "This report presents quantitative data on the experiences of LGB people of employment in Northern Ireland.
"It is the first piece of research of its kind in Northern Ireland which will inform government and employers of the experiences of LGB people in the workplace.
"This in turn should then enable government and employers to consider the measures they think appropriate to improve working life for all LGB people."
Mr McDermott said the report highlighted there was still more to be done in the promotion of equality of opportunity across Northern Ireland.