Children dressed as paramilitaries 'deeply worrying'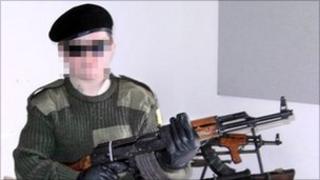 The children's commissioner in NI is investigating photographs of young children dressed as republican paramilitaries.
Patricia Lewsley described the photographs as "deeply worrying".
In them, children are seen wearing balaclavas, combat clothes and berets while holding replica weapons, including AK47s and Armalites.
The images were taken six months ago at an event at the Ti Chulainn cultural centre, south Armagh.
The centre in Mullaghbawn has received significant EU funding in recent years.
Ms Lewsley said: "I will be contacting the Ti Chulainn Centre, the Special EU Programmes Body and the Office of First Minister and Deputy First Minister for an explanation.
"Parents and responsible adults must protect children and young people, parents and responsible adults must keep them safe.
"My job is to hold Government and organisations to account over their actions," she said.
"The United Nations Convention on the Rights of the Child, which the Government has signed, states there is a clear duty to protect children from getting into vulnerable situations such as this."
The Special EU Programmes Body (SEUPB) were only made aware of the photographs yesterday.
A spokesperson said it was something they were "taking very seriously and this is why we are conducting a thorough investigation".
He said Finance Minister Sammy Wilson had instructed them to "look into the matter immediately to establish if these photographs have any association with EU grant aided projects".
This will determine: "Whether there has been any breach of the conditions attached to any EU grant and to apply sanctions if need be."
In a statement the Ti Chulainn committee said: "The event in question took place six months ago and in all that time we have received no queries or complaints about this event or any previous event held in Ti Chulainn; rather we have received many positive comments relating to this event and Ti Chulainn in general."