Shimna Integrated College forms gay-straight alliance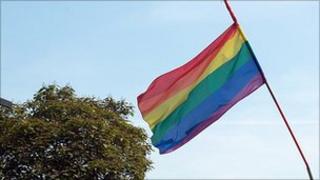 An integrated college in County Down has become the first school in NI to form a Gay-Straight Alliance (GSA).
Gay and straight students at Shimna Integrated College in Newcastle set up the GSA to tackle homophobic bullying.
Principal Kevin Lambe said that the group grew out of the college's need to deal with homophobic bullying head-on.
"It has a similar, but more specific ethos to an integrated school. It says 'some of us are straight, some are gay, let's meet together'," he said.
"Most bullying, most racism has been publicly gotten rid of. Words that you are called because of your religion, because of your skin colour, most of that has disappeared.
"But homophobic bullying I'm sorry to say is quite common. As the form of bullying which most induces young people to harm themselves or even kill themselves, surely we can't turn away from that and say 'oh that's a delicate type of bullying, we can't really deal with that'."
Mr Lambe said the school had not received any negative feedback from parents about the initiative.
"I haven't had a single parent say a negative word about it. I've had positive words about it, but no negativity at all," he said.
'Prevalent problem'
"One of the reactions we're getting, is that it is a brave move.
"But anti-bullying has to be at the heart of what every school does and the fact is that homophobic bullying is one of the most difficult and persistent types of bullying currently, so I think every school should look to that as well.
"Let's be honest, homophobic bullying happens openly, therefore I really believe you have to react to it and deal with it openly."
The Rainbow Project have highlighted Shimna College as a "model of good practice" which other schools should learn from.
Education Equality Officer Gavin Boyd said homophobic bullying was a "serious and prevalent problem" across schools in Northern Ireland.
"It is not frequently discussed in schools and many teachers are unsure of how, or even if, they should intervene when they witness homophobic bullying," he said.
"There are young people, teachers and principals in schools all over Northern Ireland who want to make sure that their school is a safe and welcoming place for everyone, but perhaps they don't know how to achieve this or if they will have support in tackling homophobic bullying.
Mr Boyd said that support was available from the Rainbow Project and the Cara-Friend LGBT organisation.
"We offer training and resources for teachers to give them the knowledge and confidence they need to tackle homophobic bullying when they witness it."
The project has also launched a guide for teachers on homophobic bullying. It is aimed at providing advice for teachers dealing with homophobic incidents.