Loreto Grammar wins Ruane court challenge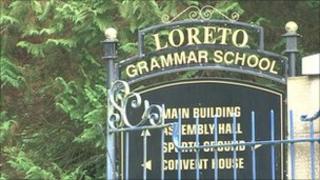 A decision by the education minister not to fund a £15m new school for Loreto Grammar in Omagh was "an abuse of power", the High Court has ruled.
Mr Justice McCloskey held that an unjustifiable breach of trust had occurred in the case involving the school's bid for a new building on its existing site.
A new premises was promised by a previous education minister in 2004.
However, this decision was reversed by Catriona Ruane.
The minister said the school would instead be re-built as part of a multi-school complex at Omagh's former Lisanelly Army camp.
Justice McCloskey delivered his assessment on Friday as Loreto Grammar won its judicial review over the alleged reneging by Ms Ruane and her department officials on a commitment for funding.
He said: "In my view, the unfairness to the governors and those whom they represent is profound and palpable."
The case centred on £14.6m of investment the school believed it was promised in 2004 through a public private partnership (PPP) for a new build.
It was announced by the then direct-rule minister Barry Gardiner as part of a major expansion plan for schools across Northern Ireland.
Since then, however, proposals have been advanced for a shared education campus on the site of the old Lisanelly military barracks.
'Frustrated'
Last summer, Loreto was included in eight schools rejected for new building plans for non-compliance with policy.
Lawyers for the department argued in court that no final decision had been taken on the proposed construction.
But Justice McCloskey concluded that the conduct, delay and inactivity of the minister and department officials frustrated the legitimate expectation of the governors that a new Loreto Grammar School, financed by public funding, would be built on the existing site by 2010 at the latest.
"An unjustifiable breach of trust has occurred," the judge said.
He further found that no proper consideration was given to the governors' expectations when the relevant ministerial decisions were made.
The judge said: "I consider that the careful, thoughtful and conscientious consideration which was required of the minister and departmental officials concerned was manifestly absent and has not been demonstrated."
He also indicated his intention to quash a decision that Loreto's proposed building project was non-compliant with the Sustainable Schools Policy criteria.
Outside the court Grainne O'Hanlon, principal of Loreto Grammar, said the school's trustees and board of governors were relieved that the case was over.
"This has been carried out in an exhaustive, comprehensive and fair manner to their satisfaction," she added.
A Department of Education spokesperson said: "The minister is aware of the judgement delivered on this matter. She will be studying it closely with her officials."
A further hearing to decide costs and how to finalise the terms of his ruling will take place next month.