Fermanagh teenagers want refuge from drink and drugs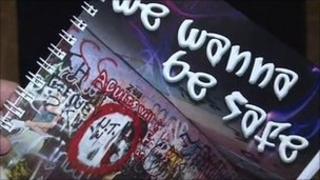 Teenagers in Fermanagh want more safe places to socialise away from the influence of drugs and alcohol, research has found.
The survey of 800 14 and 18-year-olds suggests cannabis, prescription drugs and alcohol are easily available to young people.
The main reasons given for substance abuse are peer pressure and "having nothing to do and nowhere to go".
The survey was carried out by the Fuel youth project in Enniskillen.
The project provides a safe venue for teenagers outside of school.
As well as being an alcohol and drugs free zone, advice and counselling is available to help with any problems young people may face.
The survey was carried out to discover the experiences and needs of young people in Fermanagh and to highlight substance abuse issues.
Fuel also hopes to use the results to plan ways to help teenagers stay safe.
Jonathan Morehead was one of the teenagers who took part in the study.
He said teenagers mainly get alcohol from supermarkets, usually by asking an older friend to buy it.
"There are restrictions against that, but not everyone's caught. Most of the time if someone really wants drink or drugs its well within their grasp if they really need it," he said.
Seamus O'Dare, another Fermanagh teenager, agreed: "People don't really check for identification or anything you just get alcohol anywhere. As long as you look or want it you can find it."
So will this survey reinforce stereotypes of teenagers as troublemakers?
'The bad guys'
Not according to Fuel project manager Dianne Ruckchati who said young people must be listened to.
"I came to work with young people who were hanging around the streets and parks of Enniskillen in 2008 because my daughter, then 14, was one of them," she said.
"When I collected her after she had been hanging out with her friends, she was often freezing cold and soaking wet because they had been kicked out of the shopping centres, and any cafe they went to put them out immediately after they had finished their food.
"Their only shelter was under the trees in Forthill Park or under the bridges. Here, young people were vulnerable to alcohol, drugs and peer pressure to take risks when they were bored."
She said these were the young people who were not on a sports team, in a club, church group or taking part in another organised activity.
"I was shocked to see their reality, and sad that, as a community, this was the only provision for our children," she said.
In their report "We Wanna Be Safe" it is clear the young people want adults to do more to fight drug and alcohol abuse. They said there needs to be an increase in police patrols and more action taken against drug dealers and retailers selling alcohol and drugs to underage people.
They have also called on government agencies to provide more safe places like Fuel.
Teenager Tamara Schofield said adults saw all teenagers as the "bad guys".
"But they need to find out that we know what we're talking about and we need to voice our own opinions and we do need to be heard because if we aren't heard then things can't be done right, because it's for us," she said.
Her friend, Roisin Phelan, agreed: "We want to be safe and we're not going to be safe if something's not done about drug and alcohol abuse."