Irish hare under threat from 'European brown' hare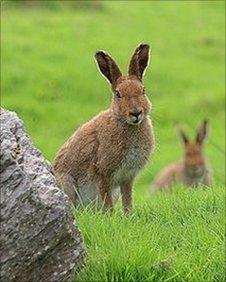 The Irish hare is under threat from the European 'brown' hare, according to a study from Queen's University.
The research has found increasing numbers of the brown hare have set up home in mid-Ulster and west Tyrone.
In March 2011, the Assembly voted to outlaw hare coursing in Northern Ireland to protect the future of the Irish hare.
But Dr Neil Reid from Quercus (Queen's University's Centre for Biodiversity and Conservation Science), said: "Our native hare remains vulnerable to another serious threat - that of the invading European hare."
European hares are found in Britain and continental Europe, but they have been highly successful in invading many countries beyond their native range in south-west Europe and parts of Asia.
There have been many studies on their impact on native species. Dr Reid reviewed these studies to get a clearer picture of how much of a threat the invading species might be to the Irish hare.
The study, published in the international journal Biological Invasions, suggested that European hares exhibit strong competition for habitat space and food resources with native species, most notably other hare species.
It also warns that disease and parasite transmission and climate change may give the invading European hare an edge over our native species.
Dr Reid added: "The Irish hare represents an evolutionary unique lineage, which is restricted to Ireland where it has been present since before the last glacial maximum, making it one of our few native mammal species.
"Hence, it has been isolated for 30,000-60,000 years. So the discovery that both species are hybridising in the wild is very worrying."
A panel of experts, from the Lagomorph Specialist Group of the International Union for the Conservation of Nature (IUCN), an authority on threatened species, signed a foreword to accompany the paper.
They described it as an urgent call for further research and the development of a European hare Invasive Species Action Plan and Eradication Strategy.
It was feared that the Irish hare would lose its protection in Northern Ireland after the Environment Committee decided against putting it on a protection schedule last year.
This decision was later reversed.
The protection order began in 2003 when it was discovered that hare numbers had declined. They have since stabilised.
The Irish hare attracted major conservation concern following a sustained population decline in Northern Ireland in the 1980s and 1990s.
Related Internet Links
The BBC is not responsible for the content of external sites.