Anthony Bey sentenced over Leslie Parkes punch death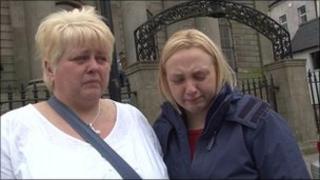 A man has been sentenced to 18 months in prison for the manslaughter of a man who died after he was punched in the head in Cookstown.
Last month, Anthony James Bey, 21, admitted unlawfully killing Leslie Parkes as his trial was due to start.
Mr Parkes, 20, from Cookstown, was knocked down by the single punch and fractured his skull. He was taken to hospital but died nine days later.
Bey must also serve a further 18 months on licence after he is released.
Speaking outside Omagh Crown Court, Mr Parkes' family said they were shocked by the sentence.
The family said although they were glad the case was over they had been left devastated and were serving a life sentence since the killing in September 2009.
Mr Parkes' mother, Heather, said there was "just total shock and disbelief" at the sentence.
"I don't feel justice has been done," she added.
"Eighteen months is going to fly for him, we have got the life sentence.
"Leslie is missed and loved so much, he touched so many lives in his short life.
"A wife who loses a husband is called a widow, a husband who loses a wife is a widower, and a child who loses their parents is an orphan, there is no word for a parent who loses a child and that's how awful this loss is.
"It is a journey that never ends."