Michael O'Leary's Ryanair to increase cost of flights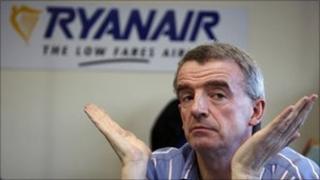 Ryanair has announced that it will add 2 euro (£1.76) to the price of all bookings from Monday.
The increase is designed to cover the cost of cancellations and delays.
The budget airline blamed the rise on "unfair and discriminatory" EU legislation which holds airlines responsible for the welfare of passengers during such events.
Ryanair lost over 100m euros (£88.5m) last year due to unexpected events such as the Icelandic ash cloud.
So-called "force majeure" events such as the ash cloud, poor weather and strikes forced the carrier to cancel over 15,000 flights. More than 2.4 million passengers were affected.
The Consumer Council for Northern Ireland urged Ryanair to be up front about the charges.
Andy McClenaghan, Senior Consumer Affairs Officer at the council, said it was essential that Ryanair "advertise their fares in a clear and open manner, so passengers understand what they are being asked to pay for".
He added: "The Consumer Council wants to see this latest charge included from the beginning of the ticket booking process on the Ryanair website so passengers know the total cost of the fare from the outset."