30 jobs go at scampi factory in Portavogie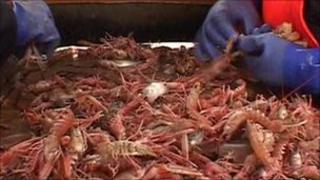 More than 30 people have lost their jobs at the Euro Shellfish (Parkgate Foods Limited) plant in County Down.
The posts are based at the firm's factory in Portavogie.
About 10 staff are set to stay for the next three weeks while the firm is closed down.
The company has been supplying the wholesale and food service sector with scampi for more than 25 years.
Sam Warnock of the Northern Ireland Fish Processing Organisation is a retired fisherman from Portavogie.
He said the fishing industry in the village was "going down the drain".
"It was a life that was expected to go on and be passed on to the next generation, but the next generation doesn't want to take it on," he added.
"There is nobody to take this on, because the finance is not there.
"No young person could go to a bank today to start a business in the fishing industry because they would not get the finance.
"It is actually very critical that it will survive."