Fans gather in Dungiven for Paul McCloskey send-off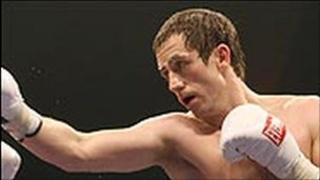 Hundreds of fans gathered in Dungiven on Sunday night to give local boxer, Paul McCloskey, a huge send-off before his first world title fight.
Streets of his home town were lined with bunting in the fighter's colours of black and white.
European champion McCloskey, 31, is unbeaten in 22 fights but has fought largely at domestic level.
The WBA light welterweight title fight against Amir Khan will take place in Manchester on 16 April.
McCloskey said he was honoured by the celebrations, but he had much more to prove.
"It's totally overwhelming to be honest with you," he said.
"As I said to a few ones, I haven't done nothing yet.
"Obviously I'm fighting for a world title but I won't be happy until I win the thing."
The last man from County Londonderry to fight for a world title was Charlie Nash in 1980, who led the parade through the town centre.
"He wants to just concentrate and get his mind settled on the tactics he is going to use on the night, watching his dieting, because all the work has been done and now he is probably ready to go and fight Khan," he said.
Former club mate at St. Canice's and Commonwealth gold medalist, Eamon O'Kane, said he believed McCloskey could win.
"It's long overdue because I have known the talent Paul McCloskey has had for years.
"I think he is more than capable of beating Amir Khan.
"I can't wait till he comes home with the title."