Armagh Sainsbury's king prawn theft - woman on trial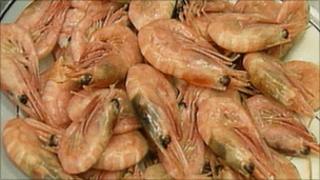 A 54-year-old woman has gone on trial at Newry Crown Court accused of stealing a packet of prawns from Sainsbury's in Armagh.
Arija Kehere of Main Street in Keady, County Armagh, has denied the charge.
A store detective told the jury that he saw the accused place the £6.99 prawns in a navy bag, pay for other items and then leave the shop.
He said he arrested her outside. The court heard the detective had been head-hunted because of his efficiency.
He had made 107 arrests in one year and was described as Sainsbury's guardian angel.