Ronan Kerr murder: £50,000 reward to catch killers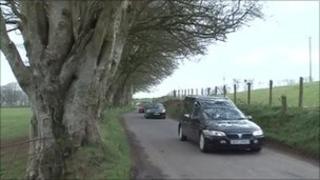 The Crimestoppers charity has offered a £50,000 reward for information leading to those responsible for the murder of Constable Ronan Kerr.
The 25-year-old Catholic police officer died when a bomb exploded under his car in Omagh on Saturday.
First Minister Peter Robinson said he will attend the funeral on Wednesday, the first time he has been to a Catholic service.
Mr Robinson said it was right for him to attend.
Requiem Mass for Constable Kerr will take place at the Church of the Immaculate Conception in the County Tyrone village of Beragh where he was brought up.
Mr Robinson said he recognised it was a decision "that not everyone will agree with".
Unusual
"But I hope people will understand that that this is a murder of a young man - that it is right that the political establishment stands up and makes it very clear that they stand with his family," he added.
Crimestoppers have said the size of the award was unusual for them - normally it would be around £10,000.
The other case where a similar amount was offered was the murder of PC Sharon Beshenivsky in Bradford in November 2005.
"Crimestoppers takes all murders and manslaughters extremely seriously," the charity's deputy chief executive Dave Cording said.
"In this incident, a police officer who was willing to stand up and serve his community has had his life tragically cut short."
The Irish prime minister Enda Kenny is also expected to attend Constable Kerr's funeral.
A book of condolence for the dead police officer has been opened in Omagh.
The Irish Congress of Trade Unions has organised a lunchtime rally in Belfast on Wednesday to allow people to express their abhorrence at his murder.
Mr Kerr, who joined the police in May 2010, is the second officer to have been murdered since the Royal Ulster Constabulary became the PSNI in 2001.
Constable Stephen Carroll was shot dead in a gun attack in Craigavon in March 2009.
Mr Kerr is survived by his mother, Nuala, two brothers, Cathair and Aaron and a sister, Dairine.