Sainsbury's king prawn theft trial - 'packet not kept'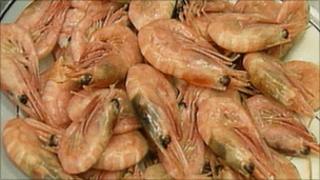 A police officer has told a courtroom he did not retain a packet of king prawns as evidence because they would go off.
He was giving evidence in the the second day of the trial of Arija Kehere of Main Street in Keady.
The 54-year-old is accused of stealing the £6.99 packet of prawns from Sainsbury's in Armagh.
Newry Crown Court heard that while Ms Kehere had paid for some items, she did not allegedly pay for the prawns.
The police officer told the jury at Newry Crown Court that he did not keep any CCTV footage recorded on the day because, he said, it was of no evidential value.
He also said since there was no mention of prawns on her receipt he gave it back to her.
In his original statement there was no mention of the receipt.
The constable brought up the subject in a new statement to the court on Tuesday.
On Monday, the trial was told that Ms Kehere was arrested outside the store by a store detective.