Ronan Kerr murder: 1,000 people at protest rally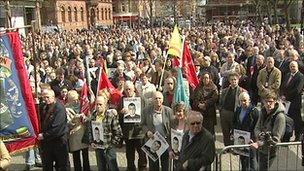 According to police estimates, 1,000 people have attended a peace rally at the City Hall in Belfast in response to the murder of Constable Ronan Kerr.
The 25-year-old officer was killed in a car bomb in Omagh on Saturday.
The Northern Ireland Committee of the Irish Congress of Trade Unions put the figure for those who attended the rally as much higher.
A lone piper played a lament at city hall and trade union leaders addressed the crowd.
Pamela Dooley, vice chair of the Northern Ireland committee of the union, said the new recruit was a fine public servant.
"He understood the risk he was taking to build a fairer, more just and equal society. He was prepared to take that risk and paid a terrible price for his courage," she said.
She added that everybody needed to work together without fear of intimidation, violence or death.
"Here today, in Ronan Kerr's name, we pledge to strive for a society where the hurt of the past is given proper expression through truth and justice and to build a future where no-one, especially our new generations, will ever again believe that violence has any place in building that future."
Patricia McKeown of the trade union, Unison, said they were responding to the call by Mr Kerr's mother, Nuala, that her son's death would "not be in vain".
A minute's silence was held and then Billy Doherty, from the Tullintrain pipe band in County Londonderry, played the pipes.
Related Internet Links
The BBC is not responsible for the content of external sites.