Jury in Sainsbury's king prawn theft case is discharged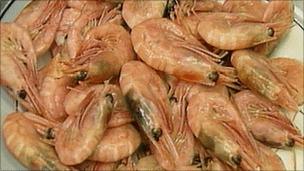 The jury in the trial of a Latvian mushroom picker charged with the theft of a packet of king prawns costing £6.99 has been discharged.
Arija Kehere, 54, of Main Street, Keady, pleaded not guilty to stealing from the Sainsbury's store in Armagh.
Judge Kevin Finnegan halted the proceedings amid concerns that Ms Kehere would not get a fair trial.
He said there was a catalogue of defects and failures in the police investigation.
The prosecution had claimed that Ms Kehere had tampered with or damaged the barcode on the packet making it unscannable and suggesting that she intended to steal them.
However, the packet was not kept as evidence. A police officer told the court it was feared the prawns would go off.
Till receipts for Ms Kehere's shopping were not kept either, nor was CCTV footage.
A police officer told the court that since there was no mention of prawns on Ms Kehere's receipt he had given it back to her.
The court also heard that the store detective who made the arrest had made 107 arrests in one year and was described as Sainsbury's guardian angel.