Consumer Council's call as heating oil prices soar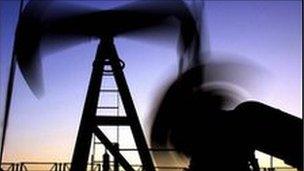 The NI Consumer Council has called for the heating oil industry to be regulated as the price of 900 litres rose to £550.
John French from the council said regulating the industry should be a key priority for a new NI assembly.
"It is estimated that with rising fuel prices, the recent cold winters and the current economic climate, fuel poverty levels have risen above 50%," he said.
Gas and electricity customers already benefit from a regulatory framework.
Mr French said that oil customers should too.
"At the end of February 2011, the Consumer Council highlighted the fact that the average price of 900 litres of heating oil had broken through the £500 mark," he said.
"However, within the last five weeks the average price of heating oil has risen by a further £50 heaping yet more misery on hard-pressed consumers who are already struggling to make ends meet."
He said 505,000 or 68% of homes in Northern Ireland use oil.
"Regulation of the home heating oil industry could provide consumers with transparency and reassurance that the price they are being asked to pay is fair," he said.
Related Internet Links
The BBC is not responsible for the content of external sites.