Ancient gorse blessing to highlight Belfast hill blazes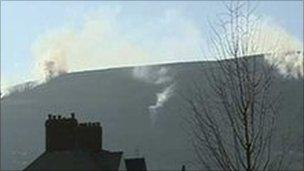 Catholic and Protestant clergy have agreed to join members of the fire service in the Belfast hills to re-enact an ancient Irish ritual.
"The blessing of the gorse" has been organised to draw attention to the recurring problem of hill fires.
Plants and animals suffer repeatedly from the effects of fires lit in the undergrowth in spring and summer.
The blessing has been revived on the initiative of the Belfast Hills Partnership.
Reverend Gregory Dunstan, rector of St Matthew's Church of Ireland on the Woodvale Road and Fr Michael Murtagh, rector of Clonard Monastery, have arranged to conduct the ceremony on Thursday.
A fire tender from Springfield Fire Station will be standing by.
The organisers hope the blessing will serve as an appeal for the public's help in tackling the scourge of costly hill fires, which take up the valuable time of the emergency services.
The fire service attended nearly 6,000 gorse fires in Northern Ireland last year, more than double the figure for the previous 12 months.