Ronan Kerr murder not deterring Catholic PSNI candidate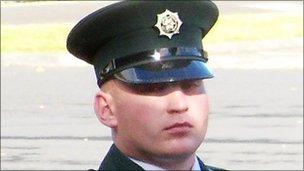 A Catholic who has applied to join the Northern Ireland police has told the BBC that he will not be deterred by the murder of police constable Ronan Kerr.
The 25-year-old Catholic was buried on Wednesday. He died when a booby-trap bomb exploded underneath his car in Omagh, County Tyrone on Saturday.
The potential recruit, who wished to remain anonymous for security reasons, said he had been angered by the attack.
He added: "If I decided not to join because of it, it is letting them win."
The family are from a nationalist background in the north-west of Northern Ireland but say that they are no longer suspicious of the police because of reforms over the past 15 years.
The candidate's mother and father both emphasised that they were proud of their son's decision to try to join the police.
"My son, having the courage to join the PSNI, is a better Irishman than I am," his father said.
"That young fellow who died on Saturday is a martyr for Ireland - a better Irishman than a lot of these armchair republicans."
The PSNI candidate said he wanted to join in order to serve the community - a feeling only reinforced since the murder of Constable Kerr.
"My first thought was that it could have been me," he said.
"The more I thought about it the more it angered me - it was somebody doing what I want to do.
"He wanted to make a difference - wanted to go and do the job and help people."
His mother backs his wishes despite fears about his security.
"I support my son 100% in what he is doing," she said.
"The only thing that I am afraid of is that he will be brought back in a box.
"But if he were to join the Garda (Irish police), police in England or America, it would be the same."
The changed relationship between the police and the nationalist community was reflected at Constable Kerr's funeral with the Gaelic Athletic Association and the PSNI holding a joint guard of honour.
The GAA had banned members of the security forces from being members until the reforms of the last decade.
The PSNI applicant's father said those reforms had reassured the vast majority of the nationalist population that they were now equal citizens.
"Politicians of all shades are holding them to account. That is something we didn't have 40 years ago", he said.
"A policeman could do whatever he wanted and you could have done nothing about it.
"That is not the Ireland that we are in now. For my son to join that police force, it's an honour on his family - an honour."
His wife, who had a relative shot dead by the British army, shared those sentiments.
"We have to move on. We can't live like that for the rest of our lives. It's a sacrifice we are going to have to make and we have to start now," she said.
"I think the killing of Ronan Kerr will do what Bloody Sunday did for the Provos (Provisional IRA) - more Catholics will join up."
Her son intends to be one of them and said he will proceed with his plan whatever the threat.
"If I decided not to join because of it, it is letting them win. They don't want the old RUC but they don't want Catholics in the PSNI - they can't have it both ways."
Related Internet Links
The BBC is not responsible for the content of external sites.