Derry bone marrow donor told she has cancer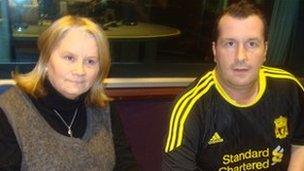 A Londonderry woman who offered to give her brother life-saving bone marrow has been told she has cancer herself.
Father of two, Bill Quigley, was diagnosed with leukaemia last September and told over Christmas he probably wouldn't survive.
His sister Alison was not able to give the donation after discovering she had a malignant melanoma, which could have been passed to him.
The family have called on more people to offer bone marrow donations.
"I was supposed to go into hospital for radiotherapy and it had to be cancelled," Mr Quigley said.
"There was too great a chance she would have given me skin cancer as well, a doctor said a healthy person could have fought it off, but my immune system was too weak."
His mother Vonny said she was devastated when she realised two of her children had cancer.
"It was like a death in the family, one of the doctors told Alison if it hadn't been noticed - it would have been like handing Bill a death sentence," she said.
"I'm beseeching people to go forward and be tested - where else can I turn?
"I have to pray that someone will be strong enough to get that blood test and that something will turn up for Bill."