Orangeman David Scott receives Catholic school award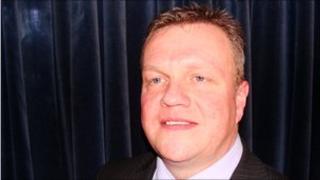 A Catholic school in north Belfast has given a cross-community award to an Orange Order education officer who regularly visits to speak to pupils.
St Patrick's Bearnageeha makes the award in memory of a former teacher, Terry Donaghy, who died two years ago.
It is being presented to David Scott on Thursday by the former Irish prime minister, Bertie Ahern.
Mr Scott said the Orange Institution was "greatly honoured" to have received the award from the school.
Better understanding
"To be the first to receive this award is an indication of the efforts of the education programme," he added.
"I talk to schools and organisations from all sections of the community and try to give them a better understanding of the Order.
"The pupils at St. Patrick's have always shown great interest in our tradition. They listen intently and they ask some very tough questions, which I am happy to answer.
"If we are to have a shared future then we need to understand each others' history, culture and traditions."
Terry Donaghy was a teacher of English and RE in the school in the 1970s but later left the profession to become a successful solicitor.
He also became known for his efforts to promote peace and reconciliation, going to Mass on a Saturday evening and then visiting different Protestant churches on Sunday mornings.
He died outside Belfast City Hall while attending a march for peace in the Middle East.
His son Leo said he would have been proud to have his name associated with the event on Thursday.
Reconciliation
"He always was one for reaching out to others and breaking new ground," he said.
"We know he would really approve of this event, because it promotes peace and reconciliation."
The event was part of the annual cross-community breakfast in the school.
Headteacher PJ O'Grady said Mr Scott's visits to the school had helped pupils, including many from the Crumlin Road and Ardoyne areas to learn more about the Orange Order and its traditions."
"There may be some raised eyebrows that David Scott is the recipient of this award," Mr O'Grady said.
"However, in the spirit of what Terry Donaghy was about, there should be no surprises.
"When it came to the quest for reconciliation, Terry believed in pushing the boat out. We in Bearnageeha endeavour to do likewise."