Accused pregnant woman fails to have tag removed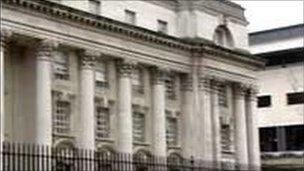 A heavily pregnant woman charged with wasting police time has failed to have her electronic tag removed.
Souyidatou Kante, 25, had claimed that she was kept prisoner for months and raped daily at an unknown location in Belfast.
She wanted permission to shed the monitoring device because her swollen ankles made it uncomfortable to wear.
However, a High Court judge on Thursday refused the request due to a lack of medical evidence.
Ms Kante is also charged with perverting the course of justice over allegations that up to five different men carried out sex assaults on her after she arrived in Belfast to escape a planned forced marriage in her native Guinea.
The accused, now seven months pregnant and with an address at a south Belfast shelter, was said to have come to a multi-cultural resource centre last November seeking asylum.
At an earlier court hearing, she claimed to have escaped after being held captive at an address in Belfast for the previous four months.
She alleged that her family were forcing her to marry an older man, even though she had secretly wed another man who had since disappeared.
Charges were brought against her because medical examinations allegedly failed to back up her account.
Ms Kante was granted bail in January but ordered to be electronically tagged.
Opposing her new application to vary the condition, Crown counsel Conor Maguire argued that the monitoring device was necessary.
He said: "Police have given me very specific instructions on this, they fear this applicant absconding to be with her husband in the Republic of Ireland."
Michael Boyd, defending, contended that it was unrealistic to consider his client might flee.
The barrister pointed out she was in a safe hostel, has little money and no friends in the area.
"It is inconceivable that she would in the dark of the night sneak away in her heavily pregnant condition to another country," he said.
Mr Justice McCloskey denied the application on the basis that it was unsubstantiated by supporting medical evidence.
However, the judge did grant a separate application to reduce Ms Kante's reporting to police to twice a week, holding that it was "proportionate and also humane" to do so.