McGimpsey: McGuinness Altnagelvin sectarian jibe 'hate'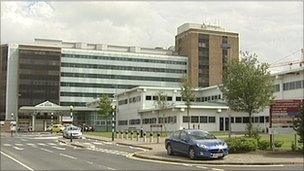 Comments made by Sinn Fein's Martin McGuinness were tantamount to incitement to hatred, UUP health minister Michael McGimpsey has said.
Mr McGimpsey said Mr McGuinness was wrong to say his decision to postpone plans to build a radiotherapy unit at Altnagelvin Hospital was "sectarian".
He said the DUP and Sinn Fein were responsible for health budget cuts.
He said his department faced a 2% cut, which would widen the gap between provision in NI and the rest of the UK.
Mr McGimpsey claimed that the DUP finance minister, Sammy Wilson, had failed to respond to a business case for Altnagelvin Hospital which he had given him last October. This was rejected by Mr Wilson, who claimed Mr McGimpsey had raised questions about the project's viability in March.
Mr McGimpsey also refused to commit to visiting Derry City Council to discuss the planned cancer unit.
Last month, Mr McGimpsey made the decision to postpone construction, saying his budget for capital spending was £500m short.
The decision meant that people in Londonderry and Donegal would continue to make a 200-mile round trip to the cancer centre in Belfast.
On Thursday, Mr McGimpsey warned that the level of funding available to him meant a number of capital projects may not proceed, such as the children's hospital at the Royal in Belfast.
Mr Wilson rejected Mr McGimpsey's claims that the health budget had been cut.
Speaking at a DUP news conference on health, Mr Wilson said that between this year and the fourth year of the budget, health spending would go up by 8% in cash terms.
Mr Wilson accused Mr McGimpsey of "cynically" using the Altnagelvin cancer unit project for electioneering, and claimed the Ulster Unionist Party was using health as "a political football".
He said Mr McGimpsey was resisting savings in his department and failing in his post.