Ronan Kerr bomb 'could have killed runners, child'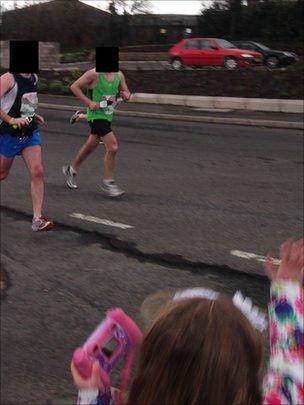 Police believe a bomb which killed a PSNI officer had already been planted under his car while runners taking part in a half-marathon ran past it.
A picture has been released showing two runners and a five-year-old girl close to where the car was parked two hours before Constable Ronan Kerr died.
Police said the bomb could have killed or maimed anyone in the area.
Two men are still being questioned by police over the murder and about an arms find in County Tyrone.
Constable Kerr, 25, was killed when the device exploded as he drove his car away from his home in Omagh on Saturday.
A 40-year-old man was arrested when a van was stopped near the Beragh turn-off on the Ballygawley line in County Tyrone on Thursday.
A 26-year-old man arrested in Scotland on Wednesday under the Terrorism Act was re-arrested over Mr Kerr's murder.
Commenting on the threat to people in the area from the bomb, the officer in charge of the investigation, Detective Superintendent Raymond Murray, said: "We already know it was murderous. Now we have evidence that it was potentially indiscriminate.
"This device had the potential to kill or maim anyone who happened to be in the area when Ronan got into his car - whether that was him, two men taking part in a fun run or an innocent five-year-old girl watching the race."
Detectives investigating the murder are returning to the scene at Omagh's Highfield estate on Thursday afternoon.
Earlier on Thursday, an apartment in Dublin was searched in connection with the murder.
The search was carried out by members of the Garda (Irish police) Special Detective Unit at the request of the Police Service of Northern Ireland.
It was at a property on the north side of Dublin, close to the airport.
Weapons and explosives were found in the Coalisland area of County Tyrone on Tuesday evening by police investigating the police officer's murder.
• Four Kalashnikov rifles
• Six loaded ammunition magazines
• Components for rocket launchers and other explosive devices
• Quantity of explosives, possibly Semtex
The Policing Board observed a minute's silence in Constable Kerr's memory on Thursday.
Chief Constable Matt Baggott told the meeting the police investigation to catch the killers would be relentless.
"We will pursue with a world-class investigation and bring them to justice, relentlessly. And I use that word deliberately: it will be relentless," he said.
However, he said police needed information from the public, as words of condemnation would not persuade the killers to stop.
"The killers will not respond to persuasion or argument or the fact that we are now an inclusive place," he said.
"I think they are too wrapped up in hatred."