Drunk Lithuanian man sentenced over Tesco death threat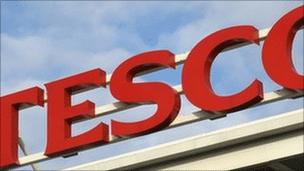 A man who threatened to kill a supermarket security guard during a drunken attack has been given a suspended jail sentence.
Valdas Draskinis, 36, was also banned from Tesco Metro in Belfast City Centre where he went for the victim after consuming "a huge amount of alcohol".
The Lithuanian national pleaded guilty to charges of threatening to kill and assault on the member of staff.
He was given a three-month jail sentence, suspended for 18 months.
Belfast Magistrates' Court heard he went into the store on Royal Avenue on Tuesday and approached the security guard.
Draskinis said to the victim "I kill you" as he tried to grab him around the head, a prosecution lawyer said.
The defendant then raised his arm and repeated his threat, causing the man to flinch amid fears he was about to be struck.
Following his arrest, Draskinis told police he could not remember the incident due to the amount of drink taken.
Defence solicitor Pat Kelly told the court: "He had imbibed a huge amount of alcohol and was extremely drunk.
"He has asked me to convey to the court his apologies and remorse for his actions."
District Judge Fiona Bagnall acknowledged the defendant had pleaded guilty at the first opportunity.
However, granting a restraining order which prohibits Draskinis from entering the store she added: "Those working are entitled to protection and not be in constant fear when they are in work."