Margaret Ritchie launches SDLP election campaign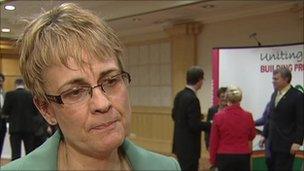 Margaret Ritchie launched the SDLP's election campaign on Thursday with a pledge to unite people and build prosperity.
Ms Ritchie said that the SDLP was "the party of ideas".
She identified the economy, investment in education, better government, and reform of the public sector as key priorities.
The SDLP will field 28 candidates in all 18 constituencies, and a further 147 for local government.
Speaking in Belfast, Ms Ritchie outlined the SDLP's programme for government.
Key points included developing jobs in sectors with the greatest growth potential, and investing in the education of young people, tackling underachievement and poor literacy and numeracy.
She attacked "executive stalemates" at Stormont and criticised those in the executive for carving up power.
She said that the SDLP's "instinct for partnership" would allow them to fulfil their promises of better government and unity.
Ms Ritchie also paid tribute to Constable Ronan Kerr, who was murdered in Omagh on Saturday.
"Very recent events have served to show us in a most poignant way how important it is for us to work together to make Northern Ireland the better place it can become," she said.