Bullying of teachers 'increasing in Northern Ireland'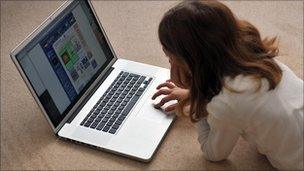 Cyber bullying of teachers is on the increase in Northern Ireland and cannot be ignored, according to the Ulster Teachers' Union.
The issue is being discussed at the union's annual conference in Newcastle on Friday.
The UTU's Jacquie Reid, who recently attended an international conference on cyber bullying, said she had heard "horror stories".
She said there was a worrying trend of teacher bullying in NI as well.
"In a couple of instances parents have been highly critical of their children's teachers on Facebook, perhaps forgetting that hundreds if not thousands of people have open access to this, including the teacher, the teacher's friends and family and other staff members," she said.
"Teachers also risk being recorded or photographed on mobile phones carried by pupils into classrooms.
"At a recent conference I attended we heard how one female teacher was traumatised when she realised pupils were taking pictures up her skirt on their mobiles.
"In other instances children have admitted deliberately trying to rile teachers to get a reaction which they can film and put up on YouTube."