Security alerts over devices in Newry and Lurgan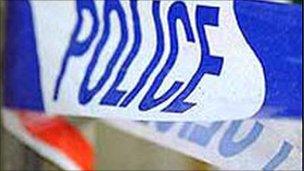 Security alerts are under way in Newry and Lurgan.
The A1 at Newry is closed southbound at the Sheepsbridge interchange.
A suspicious vehicle has been found at the motorway underpass.
The security alert began shortly before 2300 BST on Thursday after two bomb warnings were received by a hospital and charity. There are also reports of a suspect device at Francis Street, Lurgan.
Motorists have been advised to avoid both areas and use the diversions in place.
BBC Northern Ireland reporter Conor McAuley said that police had told him the suspect vehicle was "extremely well cordoned off".
However, he said some motorists had still been able to get close to the vehicle.
He said police would be aware of the dissident republican threat in the area.
"It is not long ago that a primed mortar was found on the motorway here which led to the discovery of a bomb-making factory in County Louth," he said.
"Police will be cautious because they will know that if this was called in with very specific details about where this suspicious vehicle was there is always the risk there is the possibility of a secondary device.
"I would say they will move very slowly and this alert could go on for some time yet."