Hazel Stewart breaks silence on trial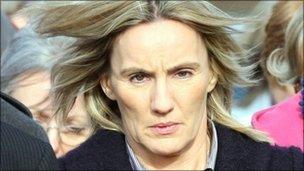 Hazel Stewart, the woman convicted of murdering her husband and her former lover's wife, has spoken to the press from Hydebank Prison.
In an interview with Belfast Telegraph political editor Liam Clarke, she indicated that she regretted not giving evidence at her trial.
She is serving 18 years for plotting with dentist Colin Howell to poison his wife and her husband in May 1991.
Mr Clarke said he believed she would give evidence at any re-trial.
He told BBC's Good Morning Ulster programme that Stewart said she had lost about 14 pounds in weight.
"She's quite animated, good conversationalist, she speaks very fluently," he said.
"She did fill up with tears a couple of times, though not completely breaking down.
"Her routine, she was chopping mushrooms, she said, in the kitchens yesterday, she's been washing dishes."
Stewart told him that while she would like to be out of prison, she found the staff and other inmates "friendly enough".
"She wants to work in the garden instead of the kitchens," he said.
Stewart was asked by Mr Clarke why she had remained silent at her trial, refusing to take the stand in her defence.
"She said she had intended to give evidence, but then when Howell gave evidence, he talked so much about sexual details of their relationship, some of which she said were wrong and exaggerated and boastful, she felt that if she had got up and contradicted that, she would have been dragged into a whole, 'what was the sex like' sort of agenda," he said.
"Also, her barrister said, 'You have spoken to the police and that should be enough, your evidence is there'."
Mr Clarke was asked by the BBC if there was a danger that he and his newspaper were being manipulated by "a woman who was preparing her appeal" against her conviction.
"She is preparing an appeal, and obviously everybody has an agenda when they speak to the paper," he said.
"She had been silent up to now and she had been more or less a blank canvass on which we could project whatever we like.
"She did want to get her account across and regretted to some extent not having done so in court and probably feels she made the wrong decision in that and if there is a re-trial, I think she probably will give evidence."
Stewart's then husband, 32-year-old policeman Trevor Buchanan, and Mrs Howell, 31, were found in a fume-filled garage in the seaside town of Castlerock.
Police originally thought the pair had died in a suicide pact triggered by their spouses' infidelity.
The truth came to light 18 years later when lay preacher Howell confessed to elders in his church that he murdered them and had stage-managed the scene to look like they had taken their own lives.
He pleaded guilty to the murders last year and is serving a minimum term of 21 years in prison.