Innocent man killed over his religion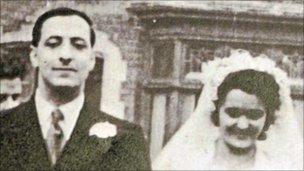 His parents had been immigrants from Italy, setting up home in Ireland before the island was partitioned.
He was a cafe owner. An ice-cream man. He was Catholic. And he was innocent.
But being Catholic was enough.
Alfredo Fusco was gunned down in front of his wife for being a Catholic. The gunman reportedly told Mrs Fusco to stop screaming or she'd be shot too.
It was a Saturday evening in early February 1973. Around 7pm two men walked into Fusco's cafe on the York Road. One was armed with a sub-machine gun, the other with a revolver.
The man who shot Alfredo Fusco was Robert Clarke, now 59 years old, with an address at Dundrod Road, Nutt's Corner.
Thirty-eight years ago, Clarke had been the man with the sub-machine gun. He planned to use it to kill Mr Fusco.
As soon as Mr Fusco saw the men he knew what was about to happen. He ran.
Clarke's gun jammed. But instead of abandoning the murder bid, Clarke walked back to his colleague with the revolver, who was standing guard at the door of the cafe.
Clarke took the revolver and went back for Alfredo Fusco. By this stage the cafe owner had managed to make it in to his store, using his body to keep the door shut.
According to a police officer who was at the crime scene, Clarke shot twice through the door. At least one of the bullets hit Mr Fusco in the head, killing him instantly.
But Clarke wasn't finished. According to the same police officer he used his hand to push the door open as far as he could, and shot the already dead Alfredo Fusco again. In the back.
By putting his hand on the door, Clarke left a vital trace. A clue which would eventually lead to his arrest. But not for another 35 years.
In the interim the Troubles continued.
Clarke killed again. In 15 June 1973, he indiscriminately murdered a Catholic woman called Margaret O'Neill.
It was a drive-by shooting, Clarke firing on a group on the pavement in the New Lodge area of Belfast.
Clarke was caught for that murder. He pleaded guilty and was given a life sentence in 1976. He was released in 1990.
Twenty years later, the killing he carried out in Fusco's Cafe on that February evening in 1973, caught up with Robert Clarke.
The Historical Enquiries Team looked at the case. A re-examination of the handprint and fingerprints found at the scene matched Clarke.
He was arrested and charged last year. He denied the murder, but Mr Justice McLaughlin - sitting without a jury - found Clarke guilty. He was given the mandatory life sentence.
At that time, Mr Justice McLaughlin told Clarke: "Mr Fusco's killer acted in a brutal and cruel manner showing a chilling determination to kill an entirely innocent and defenceless man.
"All indications are that it was a sectarian killing carried out by loyalist paramilitaries as part of the blood-letting in this community," he said.
"Few people in relative numbers are capable of that kind of act."
On Friday he set a minimum tariff of 25 years, the judge told Clarke he had assassinated Alfredo Fusco in a brutal and terrifying manner.
"Inhumanity of this scale to any fellow human being demands that the courts impose a sentence to mark the rejection by civilised society of such acts," Mr Justice McLaughlin said.
But Clarke will not serve anything close to 25 years. He will be freed under the law governing historical Troubles-related crimes in just under two years.