The Priests up for Classic Brit award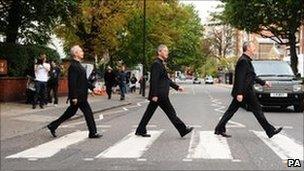 Northern Ireland's trio of singing priests are in the running for a Classic Brit music award.
The Priests' release, Noel, which featured former Pogues frontman Shane MacGowan, has been nominated in the album of the year category.
The awards will be presented at the Royal Albert Hall in London on 12 May.
Aled Jones and the Benedictine Nuns Of Notre Dame are among those also nominated for the best album gong.
Shane MacGowan teamed up with The Priests for a version of Christmas song Peace on Earth/Little Drummer Boy, on Noel.
At the time, The Priests' Father Eugene O'Hagan said the pairing showed "how music builds bridges and brings us into creative contact with unlikely partnerships".
The Priests, Fathers Eugene and Martin O'Hagan, and Father David Delargy, had a number five UK hit with their self-titled debut album in 2008.
It sold 29,000 copies on its first day of release and went on to be named the fastest-selling classical debut of all time by the Guinness Book Of Records.