Woman can sue 'Stakeknife' accused Freddie Scappaticci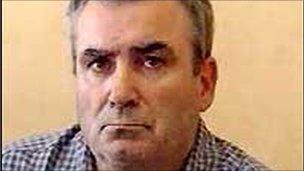 A woman who claims she was interrogated by the man alleged to be the British agent in the IRA known as 'Stakeknife', has received permission to sue him.
Margaret Keeley won her High Court appeal against being denied the chance to sue Belfast man Freddie Scappaticci.
The ruling raises the possibility of Mr Scappaticci being called to court to defend the action now against him.
A judge also ruled the Ministry of Defence can be added as a co-defendant in a claim against the chief constable.
Mrs Keeley is the ex-wife of the former MI5 informer known as Kevin Fulton.
The Newry woman alleges she was wrongfully arrested and falsely imprisoned during a three-day period in 1994 when she was held at Castlereagh police station following an IRA attempt to murder a senior detective in east Belfast.
She believes her detention was part of an elaborate sham to protect her husband's cover.
Mrs Keeley was released without charge, but claims to have then been taken with Mr Fulton to a flat in the New Lodge area of north Belfast and interrogated by an IRA security team.
Mr Scappaticci, 64, who denies allegations that he was the Army spy codenamed Stakeknife, was one of the men who carried out two debriefing sessions, she said in evidence.
Mrs Keeley claimed she only realised who he was when he was exposed by the media in 2003 as an alleged informer.
Even though the date of her knowledge was outside the normal three-year limit for bringing an action against a proposed defendant, the judge hearing her appeal decided to exercise discretionary powers.
Mr Justice McCloskey said that the nature and weight of her claims "give rise to acute public concern and interest".
He stated: "The plaintiff's allegations raise the spectre of a grave and profound assault on the rule of law and an affront to public conscience, as measured by right thinking members of society generally."
Allowing her appeal against an earlier Master's order, he confirmed: "Thus the plaintiff's application to add Frederick Scappaticci and the Ministry of Defence as further defendants in her action against the chief constable of the Police Service succeeds."
Mrs Keeley's solicitor, Kevin Winters, hailed the significance of the ruling, but added that the case "has a long way to go".