KPMG partners' investment firm JEAP loses £2.8m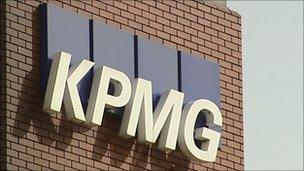 An investment company set up by four of Belfast's leading business advisers has run up a loss of almost £3m due to the property crash, the BBC has learned.
The four, who are partners at KPMG, made a series of investments on both sides of the Irish border which have run into trouble.
The private company called JEAP was set up in 2005 by four partners in the consultancy and accountancy firm KPMG.
Their private firm invested in property companies.
In its first two years it made a small profit, but in the three years from 2008 to 2010 the company lost £2.8m.
The value of some of their investments have fallen, while others have been written off.
KPMG is one of the largest consultancy firms in the world.
It offers advice to firms on a range of business issues, especially tax and accounting.
The four KPMG partners who set up JEAP are Jon D'Arcy, Eamonn Donaghy, Arthur O'Brien and Paul Hollway.
Tom McClelland, from the Royal Institution of Chartered Surveyors (RICS), said the partners' experience showed that anyone could have lost in the property crash.
"No-one had the anticipation that prices would tumble as much as they have and really a lot of very clever, able people did get caught," he said.
"It was all about timing - if you'd bought a site at the wrong time, no matter how good your scheme was and how attractive your scheme was, you were going to face problems."
One of the development companies they backed started building at Killea just over the border in County Donegal.
A total of 34 houses were supposed to have been built, but many only had their foundations put down before the property market crashed.
The partners invested about £500,000 in the company developing the site, but now their stake is worth only half that.
Others development companies they invested in have fared even worse like the Belfast company Laemont Developments. The £900,000 they sank into it has been written off.
Duleek Limited Partnership was another property company they backed with a £400,000 stake. Again this has been written off.
KPMG has said there was no conflict of interest in any of the investments carried out by the individual partners.
Like many others caught in crash, the partners are left hoping that there's a recovery on the horizon that will one day help their company move back into the black.