NI students in UK Aerospace Youth Rocketry Challenge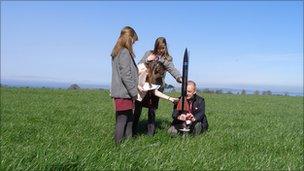 How do you get a raw hen's egg 750 feet into the air and back again without so much as a scratch?
Using a home-made rocket and a 15 inch, egg-sized parachute of course.
These, at least, were the tools with which school children from Northern Ireland sought to complete the task in Crumlin on Friday afternoon.
UKAYRoC has been running competitions for secondary school pupils across the country for five years.
To win, the students had to design, construct and launch a rocket containing a raw egg, and bring it back to earth unscathed. The teams were scored on the height of their rocket launch, and the state of their egg once it returned.
St Dominic's were crowned Northern Ireland champions as their egg reached 664 feet and returned intact.
Victoria College were runners up with a respectable 641 feet and an intact egg.
Longstone finished last, as despite achieving a whopping 920 feet, sadly their egg didn't live to tell the tale.
Blanaid Kearney, in her second year at St Dominic's, said: "We're really delighted, and hopefully we'll qualify in the top 20 to go over to England."
And therein lies the drama: they may have been victors today, but St Dominic's must wait until next week to find out if they have placed among the top 20 schools across the country, who qualify for the UK final.
UKAYRoC says its key goal is to "encourage school children to enter the world of aerospace and science". The task is not intended to be easy, but UKAYRoC insists that it is well within the capabilities of secondary school children with a good background in maths and science, and some creative ability.
The competition is designed to give participating teams experience of the real-life demands of a career in the aerospace industry, the UKAYRoC website claims. Students must work in teams, meet deadlines, and raise their own funds to participate.
Although this year's grand prize has yet to be announced, last year's winners, Horsforth Secondary School in Leeds, made off with a substantial reward.
They won a week's all expenses-paid trip to NASA in Houston, Texas, as well as a £1,000 cheque for their school.
This year's final will be held in Leicestershire on 10 May. We must wait and see whether we will have any Northern Irish representation at the event.
Related Internet Links
The BBC is not responsible for the content of external sites.