Man gets eight months in jail for passport fraud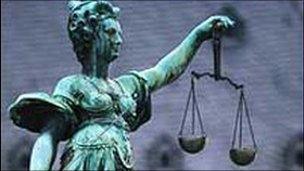 A man who used false passports to open bank accounts and find work has been jailed for eight months.
Oluseye Sunday Olundegun, 37, was convicted on four accounts of fraud, including the possession of two false Nigerian passports and a National Insurance card.
He was living in Burmah Street in Belfast at the time of the offences, and was in the UK illegally.
Olundegun will be deported once he completes his sentence.
He was arrested in September 2010 after using a false document to apply for a Northern Ireland driver's licence.
During the trial at Belfast Crown Court, Lord Justice Coghlin expressed disappointment at the lack of co-operation forthcoming from the Nigerian authorities.
"I find it extraordinary that a nation state will not co-operate, apparently, with the identification of its own citizens," he said
Mike Golden, the assistant director of the agency in Northern Ireland, welcomed of the jail sentence.
"We hope this sentence will send the message that we will find and prosecute anyone who attempts to commit this type of fraud," he commented.