Celtic player Anthony Stokes' father arrested in raid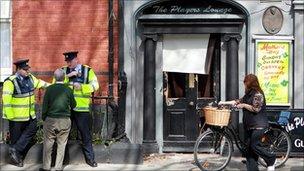 Irish police have arrested three people as part of an investigation into the activities of organised criminals.
The operation, which involved up to 100 officers, searched various addresses in north Dublin on Friday.
One of the searches was carried out at the Player's Lounge pub, which had a poster which said: "No visit by the Queen".
The owner of the pub, John Stokes was arrested. He is the father of a Celtic footballer, Anthony Stokes.
Last month, a judge ordered Mr Stokes to remove his controversial sign from outside the Players Lounge in the north Dublin suburb of Fairview, and not to erect another one.