Ronan Kerr murder: third man arrested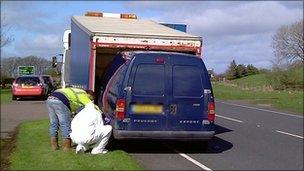 Police have arrested a third man in connection with the murder of Constable Ronan Kerr.
The 33-year-old man was arrested in the Omagh area and is from the locality.
Police have been given an extra five days to question two other men over the murder of the PSNI officer.
Brian Carron, 26, from the Dungannon area, was arrested by police in Scotland on Tuesday and a 40-year-old man was detained outside Omagh on Thursday.
Both men are being held at Antrim police station.
Constable Kerr, 25, was killed when a device exploded as he drove his car from his home in Omagh on Saturday.
The 40-year-old man was arrested when a van was stopped near the Beragh turn-off on the Ballygawley line in County Tyrone on Thursday.
Weapons and explosives, including four Kalashnikov rifles were found in the Coalisland area of County Tyrone on Tuesday evening by police investigating the police officer's murder.