NI Constable Ronan Kerr murder: third man arrested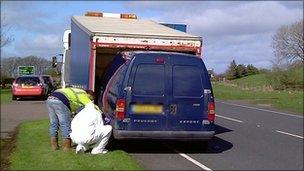 Police have arrested a third man in connection with the murder of Constable Ronan Kerr in Omagh, County Tyrone.
The 33-year-old man was arrested in the Omagh area and is from the locality.
Police have been given an extra five days to question two other men over the murder of Constable Kerr, who was killed by a car bomb last Saturday.
Meanwhile, police sources have told the BBC that dissident republicans are continuing to target police officers despite condemnation of the attack.
Brian Carron, 26, from the Dungannon area, was arrested by police in Scotland on Tuesday and a 40-year-old man was detained outside Omagh on Thursday.
The 40-year-old man was arrested when a van was stopped near the Beragh turn-off on the Dungannnon to Ballygawley line in Co Tyrone on Thursday.
Both men are being held at Antrim police station.
Weapons and explosives, including four Kalashnikov rifles, were found in the Coalisland area of Co Tyrone on Tuesday evening by police investigating the PSNI officer's murder.
Constable Kerr, 25, was killed when a device exploded as he drove his car from his home in Omagh on Saturday.
The police source said that intelligence information suggested dissidents have continued to target officers since Constable Kerr was killed.
"There is nothing to suggest a lessening of operational tempo, there has been no diminution of activity," the source said.
The police source said there was no indication that the strong condemnation of the murder, or the community response to it, has had any impact on dissident republicans.
It has also been revealed that the police have set up a special team of detectives to investigate previous incidents in an attempt to prevent future attacks.
They will use new forensic techniques to re-examine evidence gathered at the scenes of terrorist attacks going back about 20 years.
The team started work last Friday, the day before Constable Kerr was killed.
Its task is to try to find evidence to link individuals suspected of involvement in ongoing dissident republican activity to previous unsolved murders and bomb attacks.
Detectives will also investigate the financial affairs of suspects in the hope of finding evidence of criminal activity.
Police expect dissidents to attempt to step up their activities in the run-up to the assembly elections and the Queen's visit to the Republic next month.
The PSNI will be stepping up its overt - and covert - activities to combat the increased threat level.