Flybe flight delay: Ulster rugby fans face let-down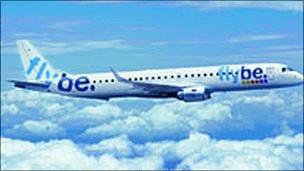 A number of Ulster rugby fans hoping to go to the game against Northampton on Sunday face disappointment after a flight delay.
They were due on a Flybe flight from Belfast City to Gatwick at 0820 BST which was cancelled.
Flybe said the majority of the 78 passengers had transferred to a 1210 BST flight but about 20 had gone home.
Ulster's Heineken Cup quarter-final is at 1400 BST in Milton Keynes, about 69 miles from the Sussex airport.
Supporter Gavin Brown said that a number of fans had been left devastated.
"This is the biggest Ulster game in 12 years and now because of this we face the prospect of missing it," he said.
"It's not just the fans who are here. There's one guy who has 22 tickets for ex-pats in London and he was supposed to be meeting them over there.
A spokeswoman for Flybe said the airline regretted the inconvenience and fans who had gone home would have their flights refunded.