1st Battalion, Royal Irish Regiment in homecoming march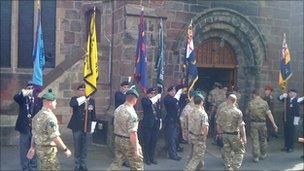 Soldiers from 1st Battalion, the Royal Irish Regiment have held a homecoming march in Shropshire.
The parade took place through Market Drayton, and marked the Shropshire-based battalion's return from its latest six-month tour of Afghanistan.
About 300 soldiers and officers took part in the march, and many people from the town lined the route.
Three soldiers from the battalion were killed in the tour, which began in September.
Ranger Aaron McCormick, 22, from Macosquin in County Londonderry was killed by an improvised explosive device (IED) in November last year.
Ranger David Dalzell, 20, from Bangor was shot in February. The exact circumstances of his death have not yet been confirmed.
Lance Corporal Stephen McKee, 27, from Banbridge, was killed by an IED in March.
Last week, Capt Jon Miller said he was looking forward to walking through Market Drayton.
"The level of support our nation is giving our soldiers for the job they're doing in Afghanistan is sometimes humbling," he added.