Secretary of State condemns Newry bomb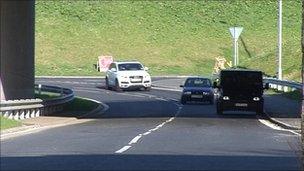 The Secretary of State has condemned those responsible for leaving a 500lb bomb near Newry on Thursday.
Police said the bomb, which was left on the Belfast to Dublin road, was "sophisticated and substantial".
Owen Paterson said the community was "fed up" with the recent spate of alerts and condemned the incident.
However he refused to be drawn on how the police dealt with the bomb and said police handling of the security alert was an "operational matter."
There had been criticism of police after hundreds of motorists drove past the van containing the bomb after cones cordoning it off were removed.
"There are questions that need to be answered and I will put them to the chief constable and the justice minister when I meet with them next week," Mr Paterson said.
"I am not going to comment until I have spoken to them."
Acting Policing Board chairman Brian Rea said: "Motorist appeared not to be willing to obey the police direction.
"The road closure sign and cones were set out but they were removed," he said.
Mr Rea said the police had done all they could to make the area safe.
"I had a briefing on Sunday from the district commander in the area who reassured me they were doing all in their power to keep that road closed.
"The police operate in that area under a constant threat. We have heard in the past where a device has been planted as a come on or trap.
"Police have to be extremely careful when they enter into this type of situation and often they have to leave it some time before it is safe for them to do so.
The alert, which started on Thursday night, was less than a week since the murder of PSNI constable Ronan Kerr in Omagh, County Tyrone.
Police believe that the van containing the bomb was abandoned in the underpass because of increased police activity in the wake of the murder last Saturday.
Army bomb experts carried out several controlled explosions on the vehicle on Friday night.