Owen Paterson rules out dissident republican dialogue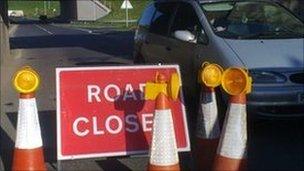 The secretary of state has ruled out opening dialogue with dissident republicans.
Owen Paterson said the government "cannot talk to people who are conducting a violent and totally indiscriminate campaign".
He made the comments after he condemned those responsible for leaving a 500lb bomb near Newry on Thursday.
Sinn Fein president Gerry Adams has called for dissidents to meet his party for talks.
Writing on his blog, he said that republican heartlands were "seething with anger" following the recent murder of Constable Ronan Kerr in Omagh on 2 May.
"The people of this island demand that you stop," he wrote, addressing dissident republicans.
On Monday, Mr Paterson said that the problem could not be solved by a police and government response alone.
"It takes a community response and it's very much a team effort," he said.
"If people have knowledge of someone that has planned or is planning illegal activities they should pass this on to the police.
"I think if there are people in the community, who know these people, and can reason with them then that is definitely going to be helpful.
"Some of these people may not be active, they may just be sympathetic and they may be receptive to being talked to."
But Mr Paterson drew the line at holding talks with those responsible for the murder of Constable Kerr and those who have planted bombs.
"I don't think those directly responsible should be talked to, anyone directly involved in illegal activity should be handed over to police.
"Anyone who knows these people, or any detail about them, should bring that information to the police."
On his blog Mr Adams said: "I am prepared to meet you anywhere at any time to listen to what you have to say and to tell you that there is now a democratic peaceful way to unite our people and our country on the basis of equality."
This appeared to be in conflict with the message from Martin McGuinness, who said anyone with information should make it available to the PSNI.