Remembering one of Northern Ireland's darkest days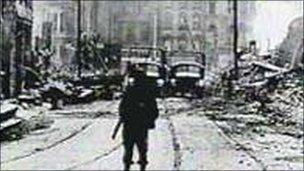 This week BBC Newsline hears from the people who lived through one of the most dangerous times in Northern Ireland history - the Belfast Blitz.
German bombers targeted the city in the spring of 1941 to destroy its shipyard and aircraft factory.
They also killed more than a thousand people, injured many more and damaged half of the houses.
The worst attack came on Easter Tuesday - 15 April - 70 years ago this week.
Most people were on holiday and the last thing they were expecting was to be bombed by the Luftwaffe.
As 91-year-old Teddy Dixon, an air raid warden, remembers - the people of Belfast weren't ready for what was coming their way.
"We weren't prepared at all - they said they would never fly aircraft here but then when they captured France it was easy."
Vance Rodgers, 88, was on fire watching duty and said he wouldn't have known what to do if a fire-bomb had hit the building he was supposed to be protecting.
"We had a bucket of sand, I think we had a fire extinguisher as well, but nobody ever taught us how to use the fire extinguisher."
Despite it being so long ago, those who were in Belfast that night vividly remember their experiences.
James Kelly, 99, was a journalist at the time and had to cover the story.
"We thought it would be a short raid but more and more bombers came flying in right over the Glen Road area, right over the city and then in the city, you could hear all the explosions."
In that one night 29,000 incendiaries were dropped from the skies as well as nearly 700 high explosive bombs and 76 parachute land mines.
For those who didn't have a job to do that night, it was a case of finding protection where they could.
May Morrow, 85, hid in the coal hole inside the house while her mother stayed outside to put incendiaries out.
Blanche Turner, 89, went to a specially built air raid shelter but said it wouldn't have offered much protection if a bomb had hit.
"It was just a brick building, no windows, nothing inside it."
All this week BBC Newsline marks the 70th Anniversary of the blitz in a special series.
Tonight the people who lived through that night tell their story of how they remember it.
There is also an interview with a German pilot who was one of the bombers.
Newsline is on BBC One at 1830 BST.