Irish explorer Tom Crean remembered with Greenland peak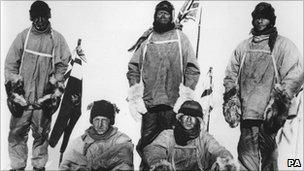 Irish Polar explorer Tom Crean has been commemorated with a Greenland mountain bearing his name.
The 700 metre peak was named last week by a group of Irish mountaineers on a charity expedition.
The climbers hope to present a picture of Mount Crean, in eastern Greenland, to relatives of the late explorer.
Crean is known for his service with two of the most celebrated heroes of the age of empire and exploration, Robert Falcon Scott and Sir Ernest Shackleton.
He was an important member of Scott's ill-fated Terra Nova expedition to the South Pole in 1911, and was the first to find Scott's body when he failed to return to base.
He was also instrumental in averting disaster during Shackleton's Endurance expedition of 1914, during which he undertook one of the most miraculous sea journeys in history, travelling 800 miles in a lifeboat.
This year's charity expedition was undertaken by Irish climber Myles Campion, Bill Roberts, who is originally from Scotland, and Greg Slingerland from South Africa.
They managed to scale 10 previously unclimbed peaks, and dedicated one to the charity they were supporting, Debra Ireland, and another to Scouting Ireland.
The venture was intended to raise money and awareness for Debra, which aims to fund treatment and cures for the genetic skin condition Epidermolysis Bullosa.
Related Internet Links
The BBC is not responsible for the content of external sites.