Mother Teresa in Northern Ireland: new BBC documentary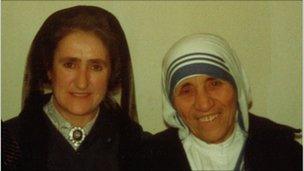 On the 40th anniversary of Mother Teresa's visit to Northern Ireland, a new BBC NI documentary remembers her time there and examines the reasons surrounding her mysterious and sudden departure.
The documentary Mother Teresa 123 Springhill Avenue tells the remarkable story of Mother Teresa coming to Northern Ireland in 1971 and setting up a small mission to help the people of Ballymurphy, in west Belfast, who were enduring a time of terrible poverty and violence.
So why has this story remained relatively unknown for 40 years, and why have the circumstances surrounding her untimely departure remained a mystery?
Most people cannot even contemplate that Mother Teresa lived in Belfast in the first place.
That many of the locals we interviewed believe she was forced to leave Ballymurphy by the local parish priest makes this story all the more incredible.
This was really what first attracted us to the story - the world renowned, Nobel Prize-winning Mother Teresa, walking the streets of Belfast then allegedly being asked to leave by the Church who would later go on to beatify her.
Forty years on, we felt it was a story that needed to be told.
We began to talk to locals who had worked and lived alongside Mother Teresa and her four Sisters of Charity during their time in Ballymurphy.
They told us how Mother Teresa and her nuns blended into the community and how they had a profound effect on daily life in the estate during some very difficult times.
But yet, after just 18 months, Mother Teresa and the four sisters suddenly left Ballymurphy without even saying goodbye. This seemed very strange given the relationships and friendships they had ostensibly built with the local residents.
According to locals, Mother Teresa arrived in October 1971 upon the request of Father Des Wilson. Father Wilson felt that something needed to be done to tackle the abject poverty in Ballymurphy.
Mother Teresa took up this challenge and moved into 123 Springhill Avenue, which still exists to this day.
Local residents believe Mother Teresa's arrival did not go down well with Canon Murphy, who they say was cautious with his welcome and who could have ultimately been responsible for Mother Teresa's decision to withdraw from Northern Ireland.
Canon Murphy has unfortunately passed away meaning we were unable to speak to him directly about these claims, but we naturally felt it was only fitting to get his side of the story from his colleagues in the Church.
Father Edward Magee was able to produce some hand-written letters from Mother Teresa herself, which seemed to suggest that she was not forced out of Ballymurphy but that she left of her own accord - completely contrary to local testimonies.
Could it possibly be that there was something of a 40-year-old conspiracy here?
Many of the people we interviewed seemed to add to the mystery even further. Sister Eileen Sweeney also claimed to have been "put out" by the Canon around the same time as Mother Teresa.
Interestingly, however, before she left her post she visited Mother Teresa's home and she tells us she found another handwritten note by Mother Teresa, which had been torn up and thrown in a bin.
This discarded letter suggested that Mother Teresa was actually far from happy about leaving Ballymurphy. Unfortunately, at the time of making the documentary, Sister Sweeney couldn't find this letter, having moved so many times over the past 40 years.
The people who loved and worked closely with Mother Teresa are adamant that she was forced out. The Church, however, maintains that she left of her own free will.
This missing letter perhaps holds the key to unlocking the mystery once and for all.
In the meantime, memories of her time here hold strong for those who met her, and the questions surrounding her departure from these shores remain unanswered.
Mother Teresa 123 Springhill Avenue is on BBC One Northern Ireland on Monday, 11 April at 2235 BST.